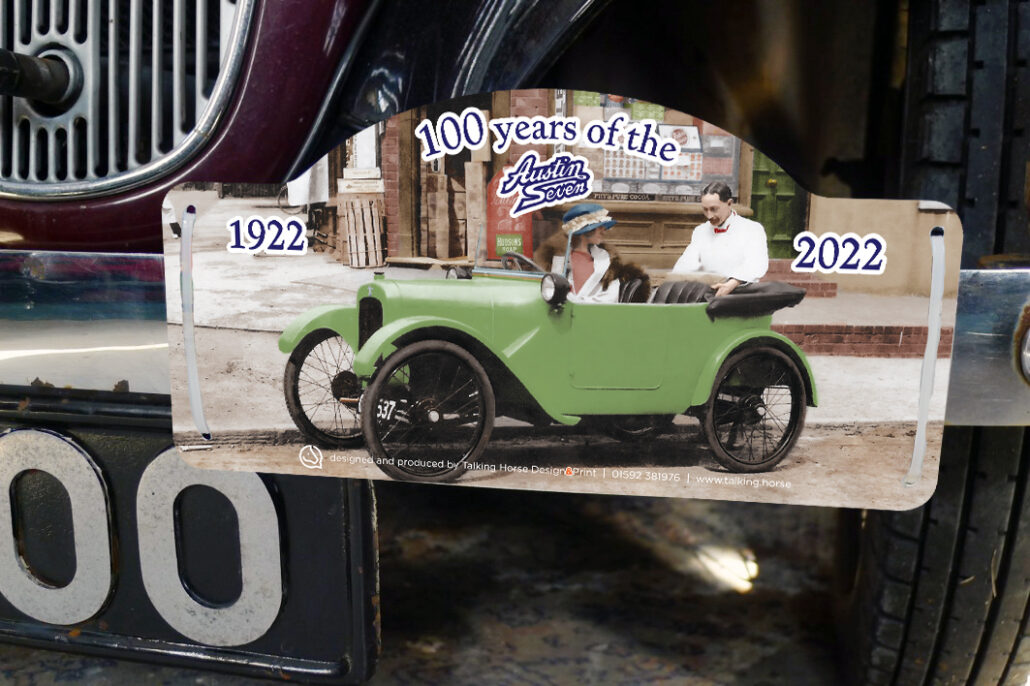 Rally Plaque – Celebrating 100 years of the Austin Seven
The Centenary of the beloved Austin Seven is here! What better way to promote the 100 years of the Seven than to have a rally plaque which covers you for the entire year. Perfect timing as well just as the show season.
Our rally plaques are a nice manageable size (290mm (11.4″) x 145mm (5.7″) to the top of the curve) allowing them to be mounted almost anywhere without causing viability or having to block the radiator. Printed directly onto the 1.5mm thick rigid PVC material they are robust and can take a bit of bending to attach them to a bumper for example. Each one will be supplied with x2 cable ties to help with attaching them to your car.
FREE delivery to one UK mainland address. Overseas delivery available, please contact us for costs.
And what to do with them after the year? Keep them on your car or hang them up proudly in your garage.
These are purely the brain child of our Boss who is a passionate Austin Seven enthusiast and are not linked in anyway to The Austin Seven Clubs' Association or the Centenary event in July.
Printing for the enthusiast, BY an enthusiast.