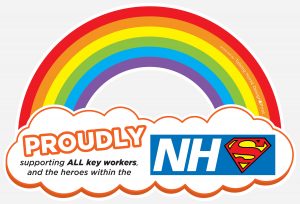 Supporting Window Sticker
During the Coronavirus (COVID-19) situation show your your support to the NHS heros and the key workers with our window sticker. Our stickers are meant to last far longer than the virus will keep us in quarantine. Long after the threat of the virus we know you will want to still show your support to those who kept us safe and looked after family and friends, so display your sticker with pride.
Once you have received and placed your sticker, take a picture of it and post it on the pinned post on our facebook page (http://www.facebook.com/TalkingHorseDesignPrint) showing our NHS heros and key workers your support. While you are there, do not forget to like, follow and share our page.
Each sticker is 306mm x 207mm, printed onto a clear self adhesive vinyl with the stickyness on the printed side so you can apply the sticker from the inside of your house.
Cost includes postage and packaging (£1.50) and will be posted out 1st class.
from each sale a £2.00 donation will be made to NHS Fife Endowment Fund.
If multiple purchases are made the items will be sent in one package and an additional 50p will be donated per item.
Opening Hours
Mon-Fri: 0900 - 1700
Sat: 1030 - 1500
Sun: closed
Contact Us
Star, by Glenrothes, Fife
and in Edinburgh
info@talking.horse
01592 381976